After your first day of cycling, one dream is inevitable. A memory of motion lingers in the muscles of your legs, and round and round they seem to go. You ride through Dreamland on wonderful dream bicycles that change and grow. -- H.G. Wells, The Wheels of Chance
RECYCLERS BULLETIN:
February 1, 2007
Recyclers' New Year Starts out in Terrific Fashion
This year seems to have started out in exactly the same way that it ended, with some terrific rides, coffee stops, and chats. A quick chronicle of the four rides we've sponsored this month follows, along with pictures from our very own, Greta Larson. Followed, of course, by the highly acclaimed, "Final Tidbits" section, and a special "Editor's Note" column.
Sunday, January 7th - What better way for the year 2007 to start off than with a brand new ride? This ride was designed and led by one of our newest members, George Olmstead. Paul refers to it as the George Olmstead - Poinsettia Train Station to Oceanside and east ride. (webmaster:It's listed as the Poinsettia Station/San Marcos Loop on the Rides Page ) The ride was really fun George. Thanks for taking the time to design a really fun and fairly challenging ride. The ride was well attended, and the weather was pretty darn nice. There was a little bit of a head wind going east on the 78 bike path. Below are some pictures from that ride. The Ed Michelson picture captures one of the funnier moments on the ride (Chickens don't fly Ed, or do they?).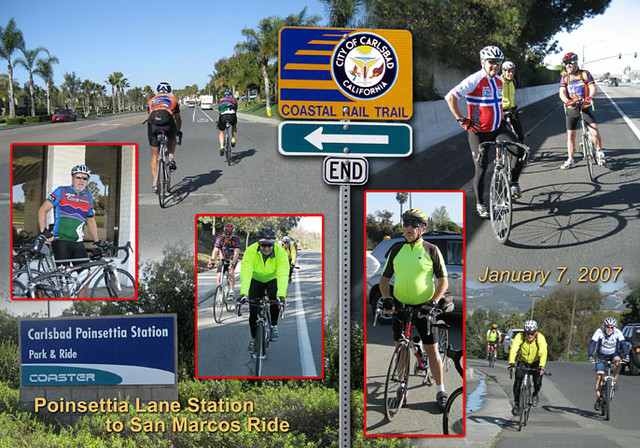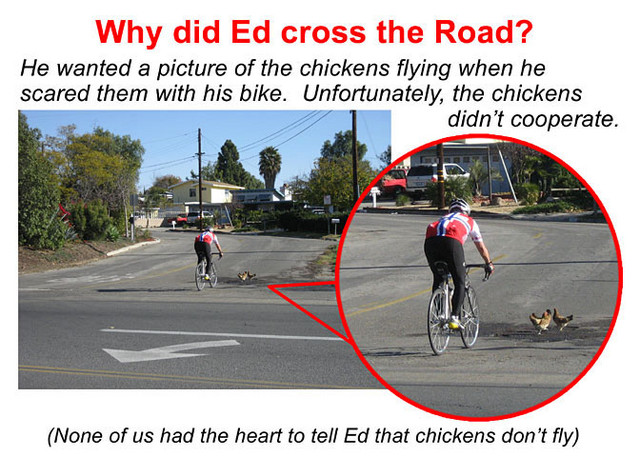 Sunday January 14th - This is one the groups' favorites. The Jeff Glen-Levin "Tour de Rancho Santa Fe Ride". Since Paul had to leave early because of his granddaughter's birthday, the only thing we can say definitively about the ride is that it sure was a lot quieter than normal. The weather was pretty nice for this ride, although the morning started out a bit chilly at about 28 degrees. Below are some moments from that ride.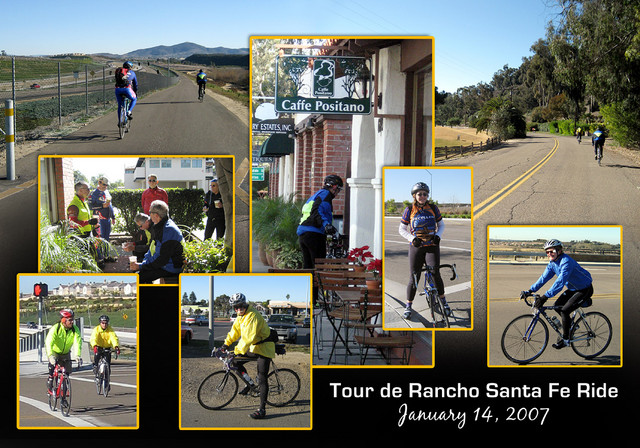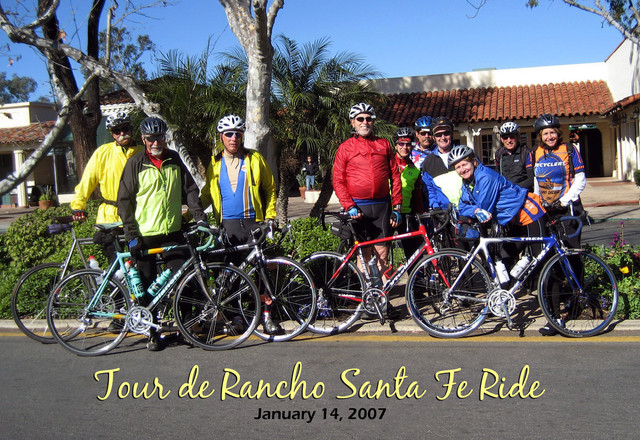 Sunday January 21st - Mike Ziegler took the lead for this ride We picked up a tag along on this ride. Apparently there's some confusion concerning our club's name. This is one of the most popular of the Recycler rides, the tried and true "Cabrillo Monument Ride" with the Mike Ziegler twist (stay off Voltaire St. and head straight down Sunset Cliffs Blvd. to the end, and then up and over to Catalina). Really nice weather for this one and a pretty cool coffee stop.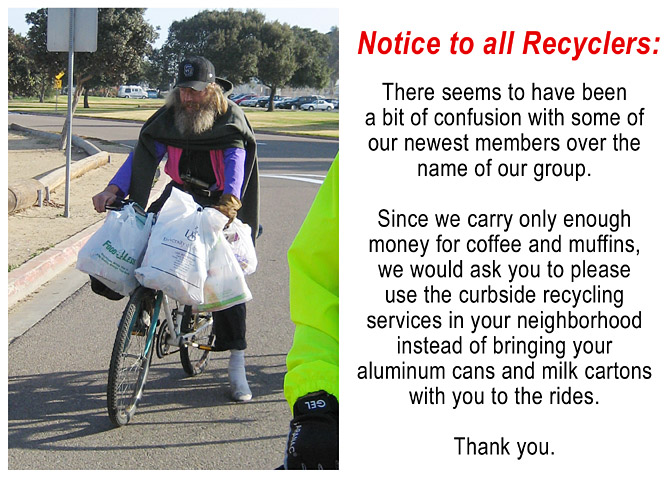 Sunday January 28th - We ended the month of January with our El Monte Park Ride. It was cool in the morning heading down into the Mission Trails Park. Marty Weiss took the lead on this one, but his two flats kept him towards the back of the pack on the return route. Here are a few pictures from the ride.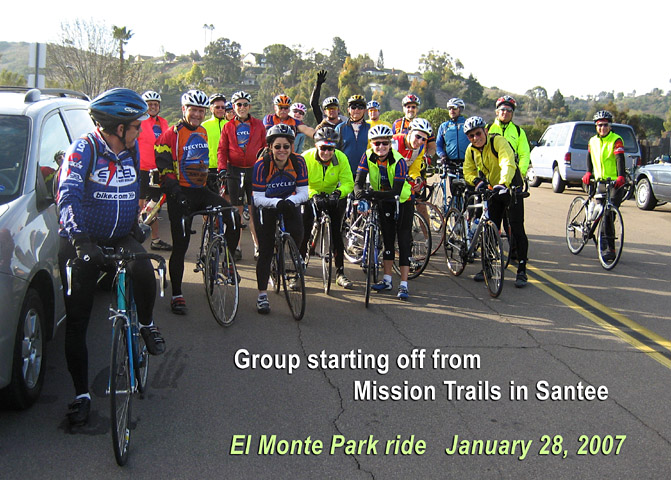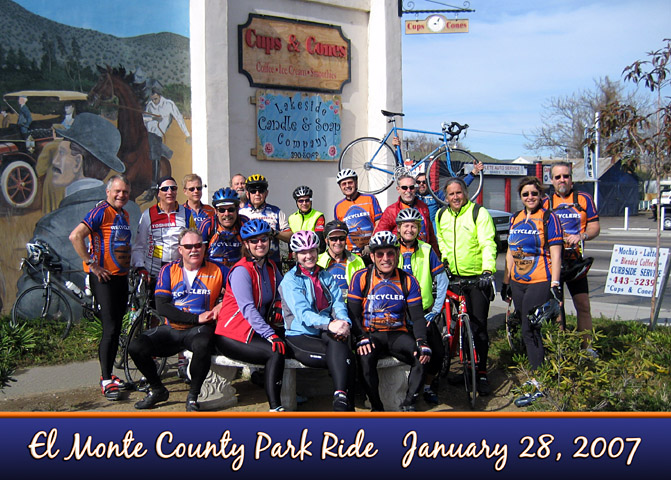 Go to the rides page for information about the chain ring ratings.
THIS WEEKS RIDE, other wise known as "De Ride" (Sunday, February 4th, 2007):
Sunday, February 4th, we're kicking off the month with another one of our favorites, The "San Diego South Bay Ride". We'll meet at the San Diego County Administration Bldg., off the Pacific Coast Highway, Superbowl Sunday, Feb, 4th at 8:00am for an 8:15 roll out. This is a very nice, fairly easy ride, that takes us around the San Diego Bay, and then up the Silver Strand for a coffee break at the Coronado Ferry Landing. Then we get onto the ferry for the ride back across the bay to San Diego. It's a great ride for first timers and old timers alike. We're looking forward to seeing you all there. Route slips will be provided, or you can print your own from the link above. There will be an optional Bonita Loop for those of you interested in getting in a few extra miles.
February 11th, 2007
Meet at the Parking lot of the shopping Center at Fury Lane and Jamacha Rd. Climb Willow Glen Dr right on Dehesa Road, climb up to Alpine.
February 18th, 2007
For those who want a longer ride meet at the Train Station in Sorrento Valley for this extension to the Solana Beach to Oceanside ride.
February 25th, 2007
A challenging ride from Neil's house in Poway, across Lake Hodges to Escondido. Go north through Bear Valley Parkway and Citrus Avenue to the North side of Escondido. Then climb up Jesmond Dene to old 395. Back down the old Highway through Escondido, with a rest stop at Felecita Park. Return to Neils house along Bernardo Height Parkway and Pomerado Road.
March 4th, 2007
Meet at Mission Bay, go north through UCSD campus, to the top of Torrey Pines, turn around. Go down La Jolla Scenic Drive to La Jolla, through Bird Rock Pacific Beach and back to Mission Bay.
Final Tid Bits:
As most of you know, the new batch of Recycler Jerseys is in. Please see or contact Marty Weiss (martw at dslextreme dot com) to pick up and pay for the Jersey(s) you ordered. Left over Jerseys will go on sale here shortly (there are about 8 to 10 extra Jerseys, including a few from the first batch), so if you didn't place an order, there's still a chance you'll find your size.

Remember, you can always find out the scheduled ride for the week by clicking on, This week's ride. All, or mostly all, of the rides there now have a link to their route slip at RouteSlip.com .

Finally, we really need to acknowledge the great work that Neil Schneider and Greta Larson are doing for the all of us. Neil has put in a tremendous amount of work on the web site and the cycle-list listserv. The web site is great Neil!!! We hope to take more advantage of the listserv here in the near future. Greta, as always, you continue to be the consummate photographer of our group. We are indebted to you for all the great picture taking and for making the effort and taking the time to do such a great job modifying, embellishing, and posting the pictures (folks, there are many more pictures of us all on the web site, so make sure to check them out in the Gallery ). Thank you to you both for the work you do on behalf of all of us Recyclers.
Editor's Note:
By way of reiteration, it is really terrific riding with you all. The stories we share, the jokes we tell, the banter back and fourth (even the political discussion(s) Greta) really makes for a fun morning. Paul's said it before, and as you all will attest, he'll say it again, we are a diverse group (to say the least). In my opinion, exposure to the diversity of opinions, backgrounds, and lifestyles we all have is really one of the main benefits we all get to enjoy by our common interest in this simple machine (the bicycle) and the totally enjoyable activity of bike riding. Thanks to you all for making the experience (and my Sundays) that much more enjoyable and looking forward to seeing you all this next Sunday and/or at some other Recycler rides or events (like our annual picnic...coming up) in the very near future. So,
Until then, stay well friends, and I hope you can all make the ride this weekend!!!
Remember to RIDE SAFE and have FUN!!!!