The SD Recyclers
Semi Annual Bulletin
(End of 2008 Edition)
Ride once then Recycle
Inside this edition:
Brief review of some of our favorite rides of 2008 (the last half)
Other notables
Upcoming events and Rides
Pictures, Pictures, Pictures
Greetings Recyclers and Friends
It's hard to believe, but it's been almost 6 months since our last Bulletin! So, given that we haven't quite admitted to the concept of an"Annual Bulletin" (but, it's being considered seriously), it's more than time to bite the bullet and send out what has now become our"semi-annual", at least in this case,"nearly end of the year" edition. Besides doing our traditional brief recap and retrospective on the last ½ year of Recycling, we have some great rides and events planned for 2009 we want to let you know about. So let's get started!
The last 6 Months
As most of you know, this last half year has been a busy one for the Recyclers. While hosting a Sunday ride each and every weekend, we've thrown in a few Saturday and weekday rides as well. And then, just to keep things interesting, we've participated in a number of other sponsored rides and events, including, most recently, the"Midnight Madness Ride", the"Bike the Bay Ride", and the SDBC's"Light up a Life Toy Ride", all of which were really fun events. And all of them benefitted good causes, including support for the San Diego County Bicycle Coalition, one of our more vocal Bicycling Advocate Groups, or, in the case of the Toy Ride, the Salvation Army. No matter what the benefit or event, however, all were made even more fun and eventful by doing them with fellow Recyclers. Below, for our enjoyment, are a few pictures from each of the aforementioned rides, provided, as always, by our resident expert photographer, Greta Larsson. And remember, the pictures from all our rides (or nearly so) can be viewed by clicking on the gallery link at the top of this page.
First, the"Midnight Madness" ride: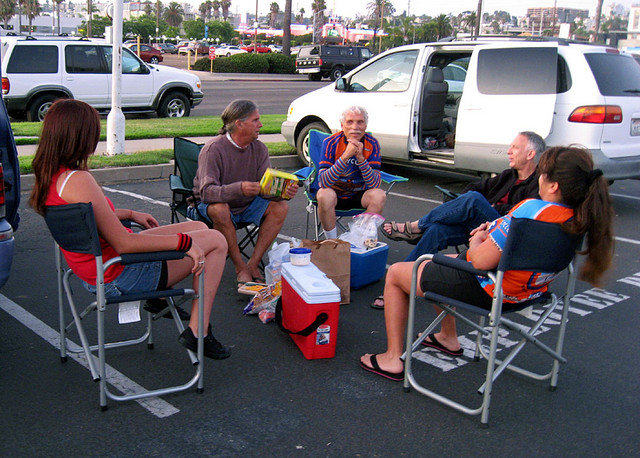 A few of us at an impromptu tailgate party, before the"Midnight Madness Ride".
Actually, before our dinner in Little Italy, before the ride.... Oh well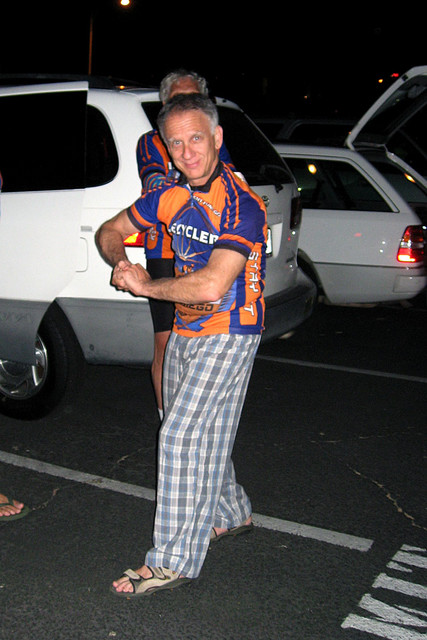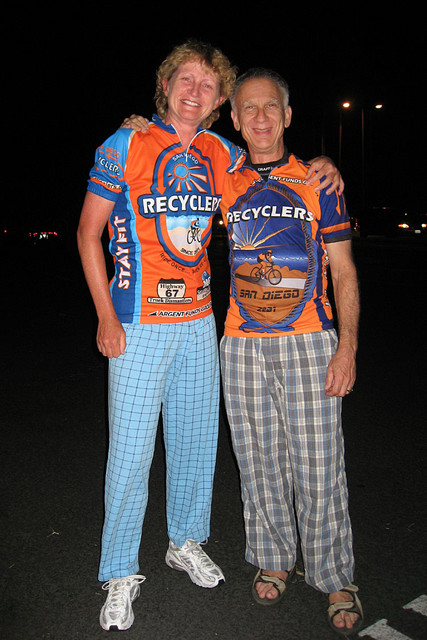 Jeff and Greta, dressed, and in the mood.... for a ride that is!!!!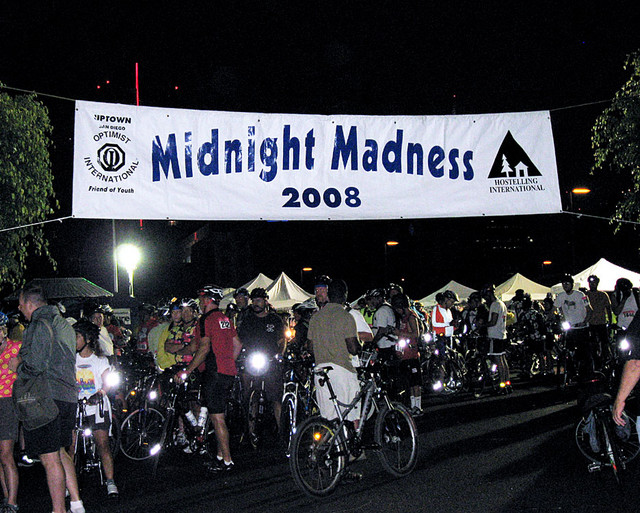 Some fellow participants and enthusiasts at the start.... A GREAT TIME
Now for some pictures from the"Bike the Bay" ride: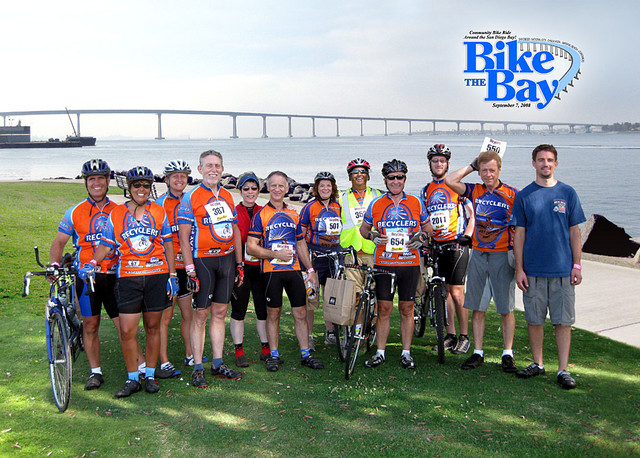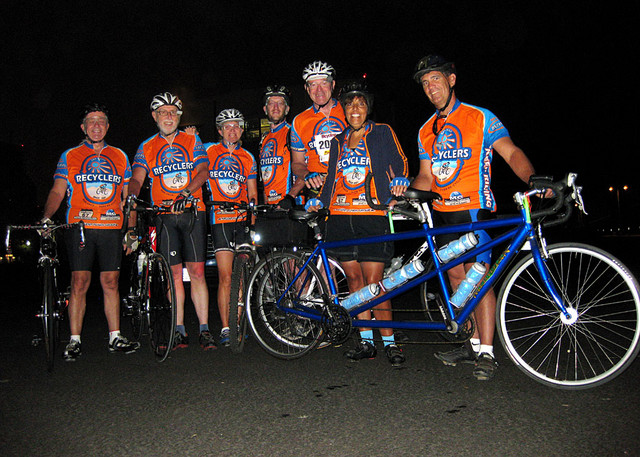 Some of us met up in the wee early morning to head off to the start together
Finally, some pictures from the"Light up a life Toy Ride":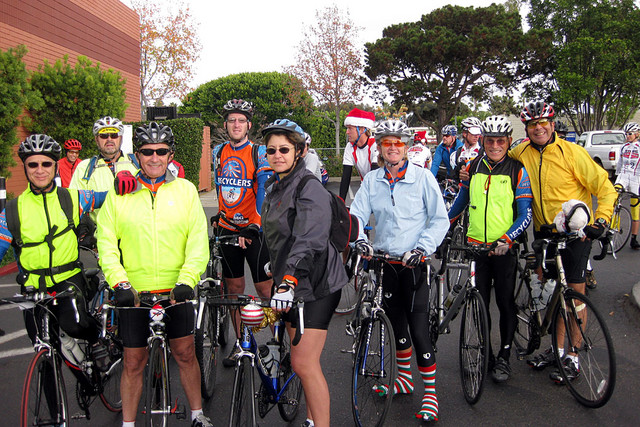 Above: Some of us at the start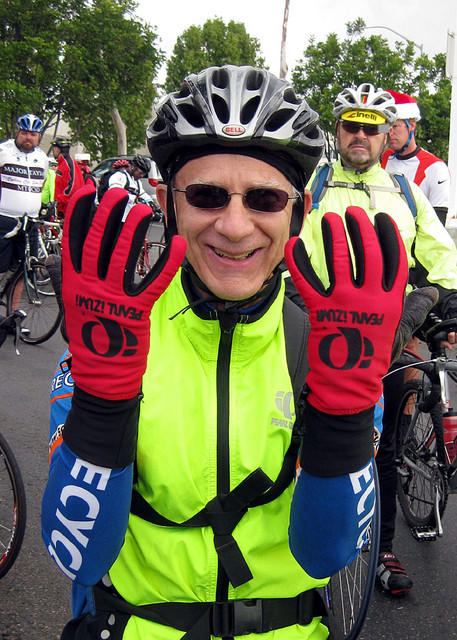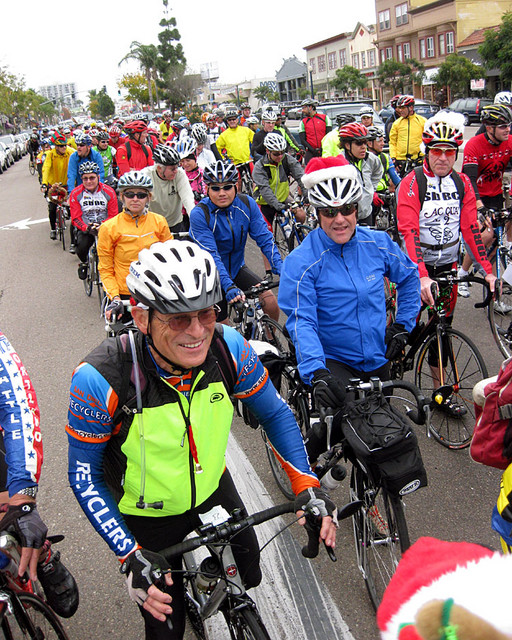 Now for some Recyclers' Rides of note
While those events were a blast, the rides it seems we all enjoy the most are just our typical Sunday rides. Of course, often times, there's really nothing typical about them. Or should I say normal (but that's another story)? And, as always, one of the nicest things about our rides are the coffee breaks, and the opportunity they provide for us all to visit. Generally, these breaks are at one our favorite haunts along the route (the Nautical Bean, on the"Solana Beach to O'Side Ride", or that little yellow hole in the wall coffee shop on Canon St, which I refer to as Dennis' place (since he was the first to point it out), on the"Cabrillo Monument Ride", or the place on Newport in OB on our"Tour de Campus Ride", and so on). But, it's pretty much a given, that the nicest coffee breaks we have are the ones that are hosted by our fellow members. And, this last ½ year has been no exception. During the last 6 months, we've been treated to a good number of great and memorable coffee breaks. This last ½ year's hosted coffee breaks included one hosted by Dennis and Haven Webb on their new patio (really beautiful guys!!!). And then, yet again, we had beautiful brunch at the home of the Zieglers, who have become sort of regulars on our "Loma, Liberty and the Zoo Too Ride" (…no pressure Michael and Carole, as Espresso Mio is always there in a pinch). Most recently, of course, we were treated to a lovely brunch by Frank and Carmen Fernandez. In any case, thanks to all of you for your kind efforts and gestures, and making our rides just that much more enjoyable. It must be mentioned, however, that one of our more special coffee breaks this last ½ year was hosted by our own Dave Crowe. It was notable and special, not only because it included a new route, which it did, but, more importantly, because it help commemorate Dave's retirement from active military duty. Thus, the route will forever be referred to the"Dave Crowe retirement ride". The route is pretty cool, albeit somewhat difficult, and we look forward to doing it again soon. In any case, it was really a treat to be able to celebrate with Dave. A very nice time was had by all. This ride, by the way, was one of the best attended rides we've had this last ½ year, in large part, because Dave is Dave (although, the free food helped…hah ha). It really was great having the opportunity to enjoy celebrating Dave's retirement from active military duty with him. Below are some pictures from the ride and brunch.
Below, Recyclers at the Start of the Ride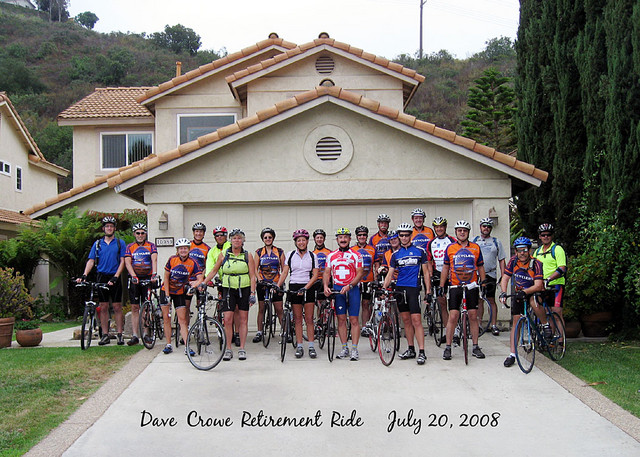 Below left: Some of us enjoying the brunch with Dave. On the right: Dave himself.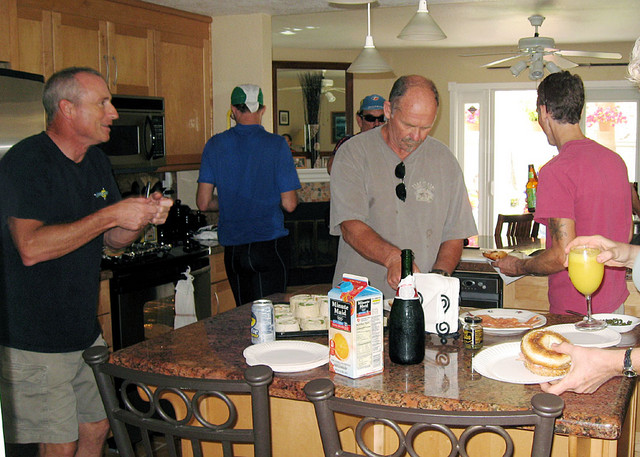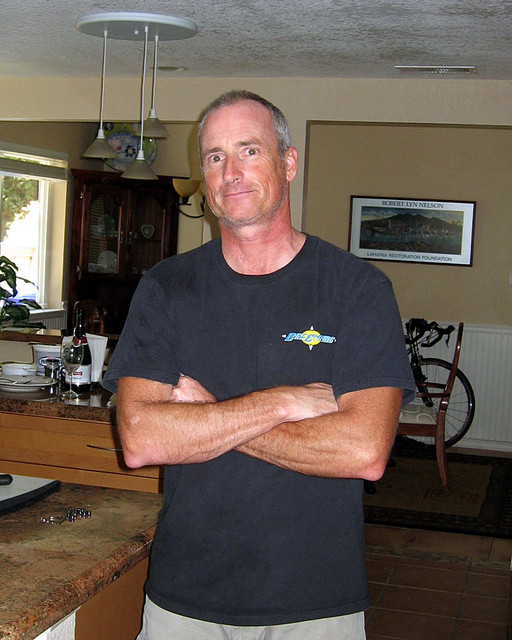 A bit more on Dave
-- In addition to celebrating with Dave during his retirement ride and brunch, some of us, along with other friends, family, veterans, and other assorted civilian and military personnel, were lucky enough to watch him, along with some of his colleagues, perform an amazing assortment of exciting naval exercises on the SD Navy Base (some truly amazing stuff!!!!), during an exhibition and live demonstration. We thought you might enjoy seeing a few pictures of that event, so we've added a few here. This, I believe, was one of Dave's last official Naval duties as he, and other members of our military, took their lives in their hands (nothing new for them) to demonstrate for us some their collective expertise and wares. Enjoy the pictures.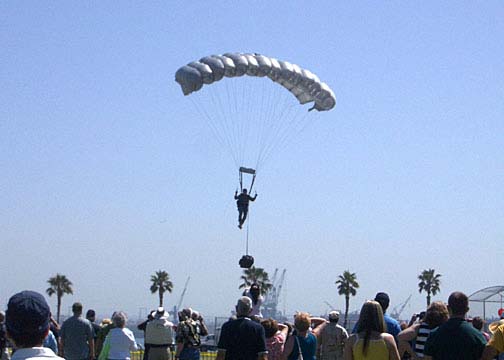 Above: Dave descending towards planet earth. Where's the bike?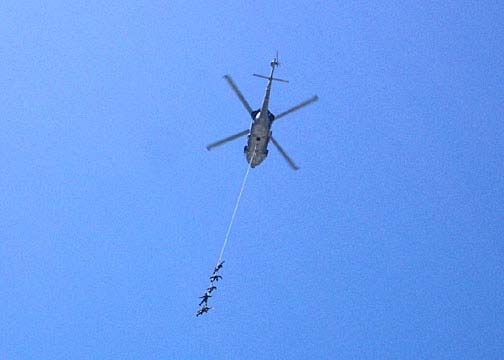 Above: Dave hanging out with some friends.
Actually, this was an especially impressive exercise. Dave's at the bottom there. They flew around for quite some time!!! Don't try this at home!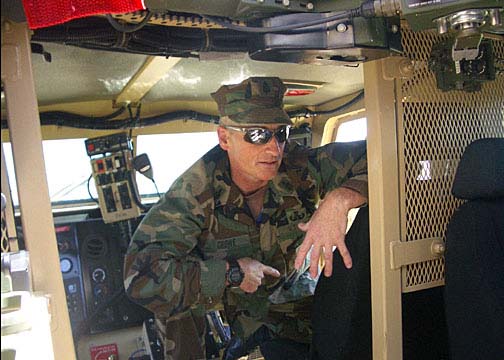 Here's Dave demoing some equipment.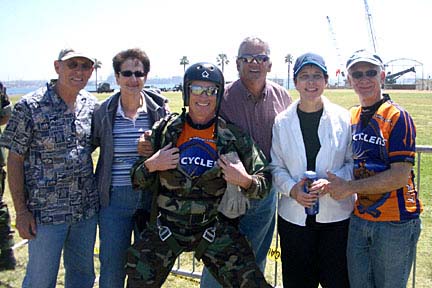 Finally, Dave, hanging out with some of his Recyclers' buddies (so sometimes he doesn't display the best judgment... hah ha). From left to right: Marty, Ruth, Dave, Paul, Sara, Jeff. BTW, Dave had his Recyclers' Jersey on the entire time!!!
Other News
-- Oh yeah, speaking of Jerseys, What about our new jerseys? I thought Greta was going to go nuts. Week after week, a new scenario emerged, until finally we get word, weeks before actually receiving the jerseys, that they were, in fact, sent, but were in a box somewhere in Tennessee (sort of a good news bad news type of thing. You know,"the checks in the mail…somewhere…yada, yada, yada). In any case, being that the Jerseys were made in Mexico (I believe TJ, or nearby), Greta couldn't quite get over the circuitous nature of the route UPS took to get them to us (let's see, TJ to San Diego, via Tennessee, hmm???). Suffice it to say, it was a route even Neil would be proud of. Rumor has it, in fact, that Neil's on Bikely.com right now mapping the route, and getting a route slip done for what is sure to be the mother of all Recyclers' routes. In all seriousness though, both Greta and Marty, especially, deserve a lot of credit for keeping the ball rolling and finally delivering the goods, including arm warmers (with Kudos to Bruce at World Jerseys for some great work). I think we all agree the effort was well worth it. Below our own Ed Michelson can be seen modeling the new jersey. His company (MG Security) is one of our three sponsors. The other two sponsors, of course, are our original sponsor, Argent Funds, along with the Recyclers' own Manuel who owns and operates HWY 67 Truck Dismantlers. Please keep your eyes open for links to their businesses on our web site soon. And should you need an investment firm, truck dismantlers, or a security system, please think of our sponsors. A big"THANK YOU" from all of us to all of our sponsors. It's because of their contributions that we're able to keep the cost of the jerseys and arm warmers so low. OK, OK, here's Ed.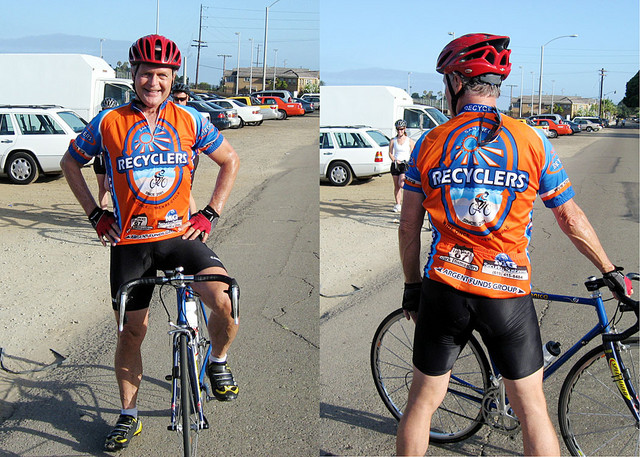 Upcoming Special Events (The Tour de Palm Springs)
- Folks, a number of us have made hotel reservations and have signed up to ride in the Tour de Palm Springs Charity Ride this coming Valentine's Day weekend. As the saying goes,"the more, the merrier". So please think about participating. Last year we had a pretty good contingent of Recyclers, most of who managed to find each other, either at the start or at the first SAG stop. And, like last year, we plan to have a Recyclers dinner following the ride. It's a fun location and a great ride with many options and many events and booths. The URL for the ride follows, should you be interested
http://www.tourdepalmsprings.com/
Many of us plan to head out on Friday and make a weekend of it. Of course, bring your spouse and/or loved ones, should you be so inclined.
Final Words
(You thought it would never end... Dave Nunez, can't believe it!!!) - Folks suffice it to say, it's been a really good year for the Recyclers, made even better by ALL the new members who have joined us, and some"old timers" who have rejoined us (like Bob Groff,"Da Wagonmaster" , himself). I would mention you all by name, but I fear I would forget someone. Please, just know how glad we all are to have you all ride with us. So, despite rising gas costs and multiple starting points both near and far, the club continues to grow, and we continue to find new and fun rides and events to do as a group. As much as anything, I believe that's a testament not only to the diverse and friendly folks who ride every Sunday, but is also a reflection of the genuine interest by the Recyclers'"leadership" (using the term loosely, of course) and all our members to try and have a little something for everybody. This is reflected, among other things, in the different difficulty ratings of each of our rides as well as our many different starting points and routes. And now, in addition to having added an"Early Bird" start to most of our rides, we've added a"Late Dogs'" start to many of our rides as well, so that some folks who don't want to ride the entire route can get off a shorter ride but still enjoy the camaraderie of the club by joining the"Regulars" and"Early Birds" in route, for 10-20 miles or so. Generally, the"Late Dog's" start happens before the coffee break, so we all get to enjoy each others' company on the break as well. These added start times makes it possible for us to have rides that are typically 50 milers for the Early Birds, 30 to 40 milers for the regulars and 10 to 20 milers for the Late Dogs. We'll try to keep this concept alive whenever possible. Also, in response to some of the Recyclers' requests, we've added a "Sauntering Sunday Ride" the first Sunday of each month. This ride is a one chain ring ride (Recyclers' rating of"easy"), in hopes, again, of attracting some folks who might not want to ride as hard as we do the rest of the month. So, we'll continue to experiment with these two new concepts and others. Apparently, so far so good! So, with all sincerity, a heartfelt thanks to everyone in the Recyclers for making 2008 a really good year for the club. We trust that 2009 will be even better. Special thanks are in order, as always, to Neil and Greta for going above and beyond. Neil, of course for his tireless work on the website and for taking charge on getting route slips done for all our rides. Greta, of course, for her expertise, and the magic she performs, with her camera, PhotoShop, and her tongue and cheek commentary/captions. What, they're not tongue and cheek? OK, that's it for now. Finally, eh Dave?
Wishing you all the very best 2009 has to offer!